THE BOATING BLOG
The Latest Boating Blog Updates. 
CPR Training
Yesterday I did a refresher course in CPR. Not just for boating, but also useful in your workplace, at home or out and about driving. People crash vehicles all the time, people collapse in supermarkets and knowing how to administer CPR can save someone's life including one of your family members. Go spend a couple of hours and do some CPR training!
THE BOATING BLOG
About the Global Solo Challenge
Many may not be aware of it, but a new sailing race is in preparation. Start is 2023-2024. The first yacht or group of yachts is set to depart on 2nd September 2023. It's not the same as other round the world single handed events.  The race can accommodate boats from 32 thru to 55 feet. They will group boats by performance characteristics and then in a handicap type format they will depart on the voyage over a period of 8 weeks. The quicker boats will have to try and catch up with the slower boats, and the first across the line wins, so no more corrected time calculations, as it's loaded at the front end. Currently 35 boats entered. The race starts at A Coruña in Spain and then goes down around the Cape of Good Hope, around and past Southern Australia, around past Cape Horn and back up to the finish line at A Coruña. The race is open to everything from classic long keel cruisers to the latest high performance boats. The organizers sensibly want to allow people on budgets to enter and do not want people building boats specifically for the event.  Boats must satisfy minimum stability criteria and may require modification to allow for adequate watertight bulkheads sub-dividing internal spaces. Check out the Notice of Race for entry criteria. So if you are interested on how long are you away from home on the race proper, that's without getting to the start line, organizers state that a circumnavigation by the three great capes is a voyage of approximately 26,000 NM. Given the disparity and ratings of each competitor with varying speeds, the faster yachts will take around 140 days and the slower ones exceeding 200 days. If interested then go their website https://globalsolochallenge.com/ Having done some single handed sailing I am in awe of many of these sailors. It takes skill, resilience, discipline and dedication to attempt such events. I look forward to monitoring the race when it gets underway.
THE BOATING BLOG
Do you own a High Speed Rigid Inflatable Boat (RIB)?
The UK Maritime and Coastguard Agency has come out with guidance aimed at reducing injury risks caused by shock and vibration on an RIB.  It is stated that Whole Body Vibration (WBV) and Repeated Shock (RS) injuries are well known hazards for passengers and crewmembers. This is especially evident in rough surface conditions, with injuries being potentially serious or even fatal. Evidently there have been several serious accidents on everything from offshore, to inland waterways and estuaries.  The range of injuries includes spinal compression injuries, serious damage to joints as well as leg and feet fractures.  
There have been a range of recommendations for both RIB design and RIB boat operation. One is that the helmsman be naturally inclined to adjust the speed to a level that ensures their own comfort. That means adjusting boat speed to conditions, rather than bashing irrespective of the motions. 
One recommendation is to adopt an upright posture, with the spine being in a natural "S" shape, and always facing forward in the travel direction. Standing or sitting sideways increases spinal stress and injury risk. There is also advice on older people who have a high propensity for injury such as more brittle bones and conditions such as osteoporosis. So while granny wanted to go skydiving for her birthday, taking her for a high speed bash around the bay on your RIB is also potentially hazardous. Stay safe out there! Or end up being featured in this boating blog.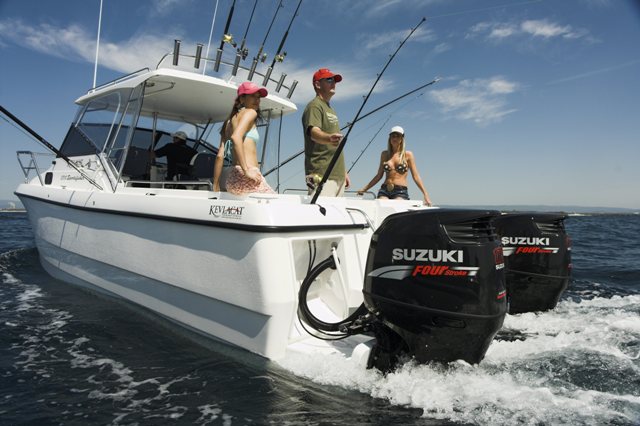 Nothing beats a day out fishing
THE BOATING BLOG
Stolen Yacht Disappears
The adage what goes around comes around is certainly true in this case. A sailing yacht named Secret Plans, out of Halifax, Nova Scotia, activated an EPIRB distress signal in the middle of Hurricane Larry. The yacht then disappeared. The USCG contacted the registered owners of the EPIRB and the owners learnt that their yacht had been stolen. The suspect is believed to be a drug smuggling suspect from Antigua. This guy had evidently escaped from the custody of the Royal Canadian Mounted Police (much embarrassment there I think, some one will be demoted) after he was arrested in his own yacht and a very large amount of cocaine. The perpetrator was an experienced sailor and held a UK RYA Yachtmaster Certificate with a background in yacht crewing and yacht charter. Given the winds were at about 75 knots and huge seas running, and searches have shown no sign of the stolen yacht, it looks like the boat thief has gone to Davey Jones locker.  You couldn't write about this stuff, what irony stealing a yacht called Secret Plans. All great boating Blog news. 
What Other Visitors Have Said
Click below to see contributions from other visitors to this page...