Four Winns Fish and Ski
by Terry
(Atlanta, GA)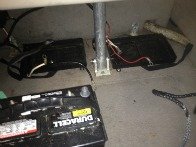 Cables
I want to get my 12/24v trolling motor hooked up but am not familiar with how to hook up the second battery.


Attached are pictures of the battery cables but I do not know which cable to hook up to the battery terminal. I see 2 groupings of cables, one negative with a white wire and the other grouping has a positive cable and 2 white. I'm sure this is related to chaining the batteries to get to 24 and 36 volts.
Thought I should ask the experts as I do not want to short anything out.
Your input is greatly appreciated.
Return to FISHING and BOATS FORUM