About Boat Radios
The advances in boat radios technology has been as significant as all other changes for commercial and pleasure boating.  As usual big developments in electronics and software have transferred into the small boat market.  This communications revolution has affected the largest merchant ships to the smallest fishing boats.  The days of a simple VHF radio or a 27 MHz citizen band radio are almost gone. For larger ships, boats and yachts HF/SSB shore stations have largely ceased operations in most main western countries, along with Morse. The Global Maritime Distress and Safety System (GMDSS) is now fully operational with far reaching ramifications to all boat owners. Given its capability you would be nuts not to have a GMDSS DSC VHF when offshore.  Of course EPIRB's are covered in boating safety as are chart plotters, depth sounders and fish finders.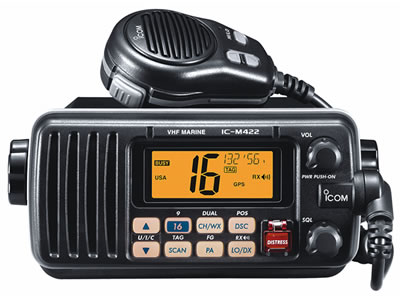 All About Boat Radios 
GMDSS has transformed the maritime communications area, and many smaller boats and cruising yachts are still trying to get plugged into the international standard distress system. For more details on There is much to know about GMDSS COMMUNICATION so click on the link and learn. 
GMDSS has changed a lot of things with boat radios, with DSC radios now almost standard on smaller boats, and cell phones getting widespread if not controversial when used. For more on DSC VHF RADIO for all you need to know. A mobile phone is no substitute for a radio, make sure you have both.
Ham has become a logical choice for long range communications on yachts now that GMDSS has virtually eliminated HF/SSB voice communications. For more on HAM RADIO click on the link for all useful maritime mobile frequencies and HAM net information you will ever need to go cruising.

All About Radio Frequency Interference
Some of the old problems still exist and so this should help you solve some of the issues as they arrive on your boat.  Read this useful information on RFI Interference problem solving on your VHF and SSB radios along with noise on your GPS and marine electronics 

PART 2 of this 3 Part Series on RFI and Interference problem solving HF radio interference. All you need to know about interference, noise and RFI on your marine electronics and communications systems.
PART 3 of this 3 Part Series on RFI Suppression and Interference problem solving on your GPS, marine electronics and radios. 
Continue exploring fishing and boats for useful information and answers to common questions.