1984 evinrude 60hp 2cyl 2 stroke
by Ron
(Haileybury, ontario, Canada)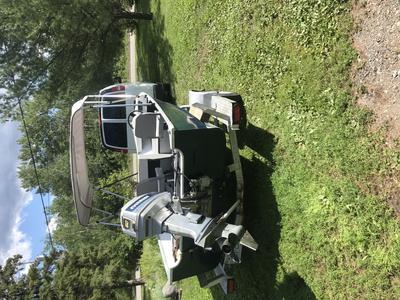 1984 evinrude 60hp 2cyl 2 stroke
This motor ran excellent last year, no rough idle, always started great. Engine was stored properly. This spring it ran like crap. It was hard to start and it wouldn't idle like it should. So I changed the small fuel lines to the carbs but not the one from the fuel pump. I doesn't have VRO. I also swapped out the carbs from an identical motor that went out of commission due to a bad crank bearing. I first cleaned them really well and was able to get the engine to start good. Now it starts really well on and off the water.


There is also a noticeable improvement at cruising speed. But it still stumbles at idle. I have to adjust the idle higher than normal for it not to stumble. When I say stumble its almost like it skips a beat then back to normal then skips again. Sometimes it almost stalls then picks up again. If I set the idle too low it does stall.
I makes no difference how warm the engine is it still stumbles. Before I swapped the carbs it was hard to start but once it ran for a few minutes it started great all day long but still wouldn't idle right.
So I have seen a major improvement so far. I think it may just be a matter of settings but not sure how to go about getting it right.
Perhaps its sucking air in somewhere. Maybe the fuel line from the carb to the fuel pump is bad or from fuel pump to exit connector, plugs are good lots of smart fuel line from tank to motor is good, primer bulb stays firm when pumped up