Your boat and marine electrics system needs help!
Boat and marine electrics can include many different things.  The complexity of an installation also varies by boat type and boat size.  In the end the basic underlying principles are much the same regardless of which boat type you buy.  Problems always arise when boat and marine electrics systems are not cared for, badly maintained, or have undocumented changes done by the boat owner before you.  Most boats have a 12 volt system. And over a period of many years we have had 24 volt systems, 32 volt systems, and then nearly 42 volts systems and it is looking likely we will soon progress to 48 volt systems and this will impact 48 volt system designs and installing 48 volt alternators.
The average cruising yacht, fishing boat, motorboat and sailing boat is now very high technology, with almost everything having electronic control or monitoring imbedded into them. The electronics and computer technology age has taken over with many boats now having boat electrics systems that include smart battery chargers, smart alternator regulators and smart battery switches and systems that have smart phone connectivity. Then we have touchpad electronic switch panels and microprocessor controlled inverters along with electronic LED lighting, smart instrument networks, multi-function terminals. Of course, they need to have a boat and marine electrics system and a reliable boat wiring system to support it all.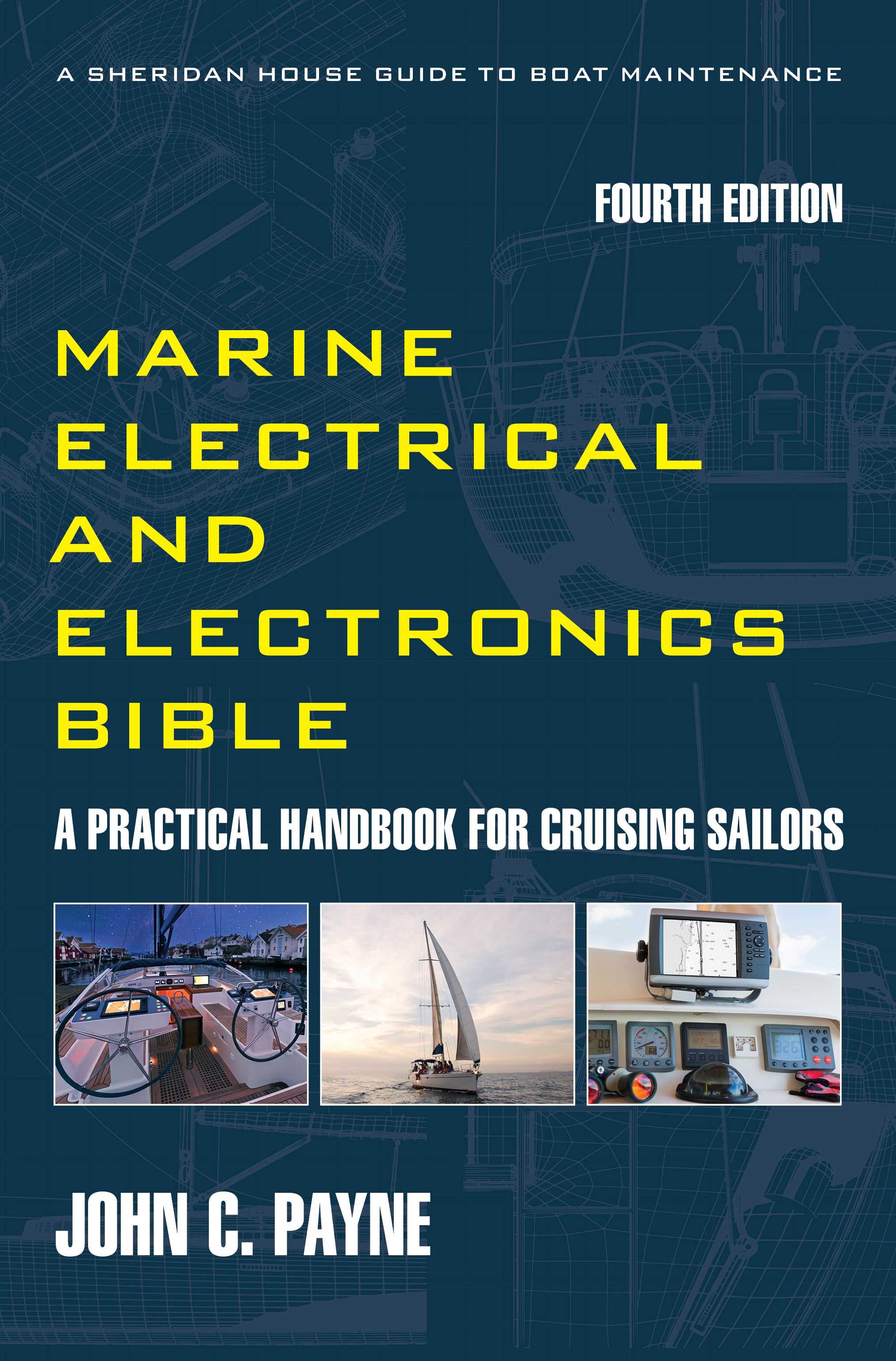 The Marine Electrical and Electronics Bible, 4th Edition, a practical reference for cruising yachts and all you need to know about systems
About Boat and Marine Electrics
Whether you have a new boat or are buying a used boat, adding a boat accessory to your fishing boat or sailing yacht, the basic boat electrics rules remain the same. The electrical power system required to supply equipment is also a misunderstood subject, and it is the foundation for reliable equipment operations and is covered elsewhere.
I want to change the dangerous illusion that boat electrics and vehicle systems are similar. As we all know, there are no 24 hour road services offshore, and safety is the prime factor, and this depends on good systems design and installation. Whether it is in France, England, Netherlands, Canada, Australia, New Zealand or the United States, the same boat electrics problems are found, and the forums show that clearly.
What boat and marine electrics standards?
Small boat marine electrics systems should be installed as far as practicable to comply with one of the principal standards or recommendations in use, and most standards are similar or overlap although some may ask for higher standards on particular systems than others.  You should consider any of the standards as the minimum level required for marine elctrical installations. These include American Boat and Yacht Council (ABYC).  Standards and Recommended Practices for Small Craft.  The United States Coast Guard. The European Recreational Craft Directive (UK and Europe).   I am sure there a few others as well, and the trend by some to treat small boat electrics as auto systems finished long ago. Great information on the up-to-date Boat Wiring Regulations.  Rules and regulations have to cover a wide gamut of boat types, constructions and materials, so there is no neat and precise fit and when looking at each particular boat installation context is everything.  Many boats have legacy electrical systems, with remnants of older installations that can be decades od additions and modifications. Sometimes it is easier and practical to rip the old system out and start again which is what I am doing on my own boat.
Boat and Marine Electrics Systems
Boat and marine electrics systems include the following primary elements.  First there is the actual boat wiring or the loom, which connects all the devices and equipment to the switch panel. The boat switch panels incorporate all the circuit breakers, fuses and control switches along with meters such as the voltmeter and ammeter. Then we have boat lighting and boat navigation lights which have a range of requirements for consideration. While these are all DC boat electrics systems, we also have the issue of shore power, along with other AC power systems that include boat inverters, generators and so on.  Underlying all of that is the actual installation of the wires and cables, and how to install them so as to remain reliable and maintain the mechanical integrity required.
Boat Electrics Forum
This boat electrics forum is for boat owners to post boat and marine electrics problems that they can't solve or that require input from other boat owners. Where possible I will try and answer them, or someone else might do that once posted. So visit the boat and marine electrics forum, post your problem or look at previous posts as you may find the answer.  More on boat electrics.