AGM Boat Batteries
I have been installing AGM boat batteries on my own boats for a long time now. The performance and practicality have been right up to expectation. Whilst most boaters have long since switched to AGM boat batteries now the Lithium Iron battery is making inroads and that will be covered elsewhere. What is an AGM Boat Battery called AGM? The electrolyte within an AGM boat battery are held within a very fine microporous (boron-silicate) glass matting that is sandwiched between the plates. This absorbs and immobilizes the electrolyte solution while still allowing plate interaction. They are also sometimes referred to as starved electrolyte batteries, as the glass matting is only 95% soaked in electrolyte.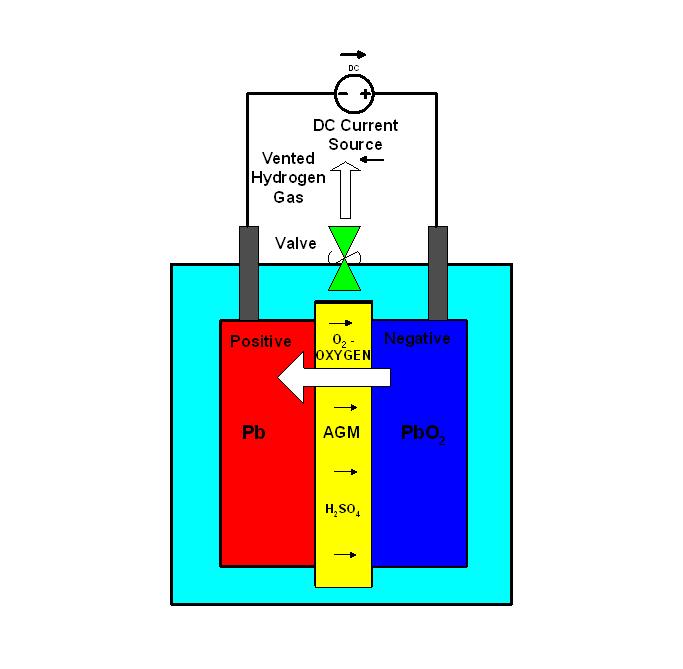 The AGM battery process
AGM Boat Batteries
They are often simply referred to as Absorbed Glass Mat (AGM) or sometimes they are also called Valve Regulated Lead Acid (VRLA) Batteries.  There are many manufacturers and among the most reputable AGM boat batteries  manufacturers and suppliers are Lifeline Batteries, Trojan Batteries and Rolls Batteries and Mastervolt. 
AGM Boat Batteries
Recombinant Gas Absorption Principles. In a normal lead-acid battery, water loss will occur when it is electrically broken down into oxygen and hydrogen near the end of charging. In a battery during charging, oxygen will evolve at the positive plate at approximately 75% of full charge level. Hydrogen evolves at the negative plate at approximately 90% of full charge. In normal batteries, the evolved gases disperse to atmosphere, resulting in electrolyte loss and periodic water replacement. These are the bubbles seen in the cells during charging. During charging the current causes decomposition of the water, and oxygen is evolved on the positive plate.
The oxygen then migrates through the unfilled pores of the separator matting to react with the negative plate and form lead oxide, lead sulfate and water. The charge current reduces and does not generate hydrogen. The low maintenance recombinational battery has different characteristics. The plates and separators are held under pressure. In AGM boat batteries during charging, the evolved oxygen is only able to move through the separator pores from positive to negative, reacting with the lead plate. The negative plate charge is then effectively maintained below 90% so inhibiting hydrogen generation. They emit less than 2% hydrogen gas during severe overcharge (4.1% is flammable level). 
AGM Boat Batteries
Plate Construction. There are variations to flat plate manufacturing techniques. The Optima® AGM boat batteries have a spiral cell, dual plate construction. Another important feature is a greater shock and vibration resistance than gel or flooded batteries. They also have extremely high CCA values of up to 800 amps at 0˚F.
AGM Boat Batteries Charging.
Charging of AGM boat batteries have few limitations, and there are no special charge settings that are required. Typical charge voltages are in the range 14.4 to 14.6 volts at 68°F (20°C). The batteries have a very low internal resistance, which results in minimal heating effects during heavy charge and discharge. They can be bulk charged at very high currents, typically by a factor of five over flooded cells, and a factor of 10 over gel batteries. They also allow 30% deeper discharges. They recharge 20% faster than gel batteries, and have good recovery from full discharge conditions. Self-discharge rates of AGM boat batteries are only 1%-3%.
 If you are a weekend, harbor or river cruiser, who does limited motoring periods, or leave the boat unattended for long periods, the AGM boat batteries are a viable proposition. AGM boat batteries have very low self-discharge rates, and very high recovery rates from deep discharges. If a small solar panel is left on with a suitable regulator, they will recoup the annual costs of replacing deep cycle batteries by lasting several seasons, with the more important improvements in reliability. Typical charge voltage levels are 100% is 12.8–12.9 volts, 75% is 12.6 volts, 50% is 12.3 volts, 25% is 12 volts and 11.8 volts is flat. 
AGM Boat Batteries
AGM Boat Batteries Heat Resilience. At high temperatures AGM boat batteries (and Gel cells) are unable to dissipate the heat generated by oxygen and hydrogen recombination and this can create thermal runaway. This will lead to gassing and the drying out of cells. A premature loss of capacity can occur when the positive plate and grids degrade due to higher operating temperatures. This is caused by the exothermic recombination process and higher charge currents. In addition negative plates also degrade due to inadequate plate conversion. The main failure modes are cell shorting and pressure vent malfunctions caused by manufacturing faults. All about AGM Boat Batteries and the boat battery.